Dealerwebb Will Be at Digital Dealer, Teaching Dealers How to Maximize Conversions
March 14, 2019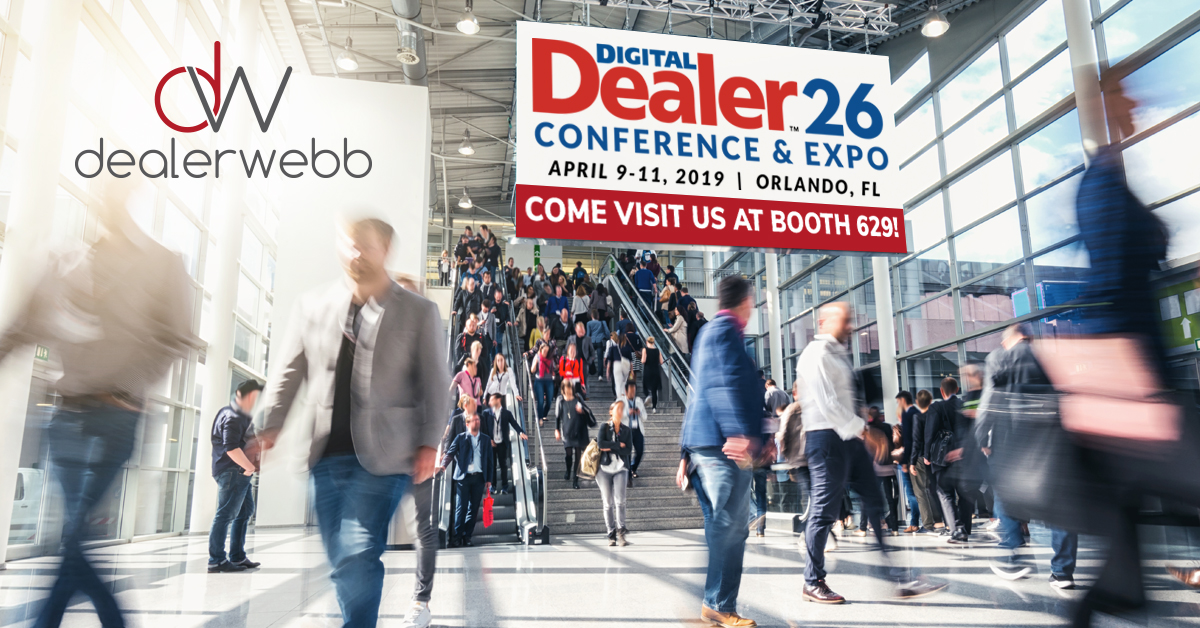 If you work in the automotive industry, you've heard of Digital Dealer. But for those that don't know, Digital Dealer is a convention where all of the top automotive dealerships go to find out more about new, automotive-specific technology, and talk to vendors that could get them ahead of the curve. Our Dealerwebb conversion experts are going to be attending the convention to help those who are struggling to get website conversions, or are not getting as many conversions as they would like, with Dynamic Visitor Promotion (DVP). Here's a small sample of what DVP can offer:

Tool Tip:
Tool Tip brings special attention to select cars that you are trying to sell. With Tool Tip, you choose specific vehicles and assign offers relative to those vehicles. When a visitor is on an SRP and hovers over any of the vehicles that you have specified, DVP's Tool Tip will display the offer for that vehicle.
Your visitors will see incredible value in Tool Tip because of how relevant it is to what they're looking for. After all, they would have had to search for similar vehicles in order for the vehicle to show up on the SRP where they can be served the offer. Most importantly though, you, the dealer, will see great value in Tool Tip because it will help increase conversions on your site.

Limelight:
CDK conducted a study on Vehicle Description Pages (VDP) and how they influence sales, unveiling that when VDPs gain up to 40 pageviews, they are 44% more likely to get sold. Limelight can help you get those page views, particularly for vehicles that are not currently getting a lot of traction.
Limelight is a dynamic list of vehicles that we can infuse on any page of your website, such as the SRP. Vehicles are selected based on filters you have defined, including but not limited to: oldest vehicles, most expensive vehicles, vehicles with the least amount of VDP views, and more. Since it's dynamic, as soon as one of the vehicles being displayed gets sold, a new vehicle gets put in its place. Your visitors will then be able to continuously see vehicles that typically are not getting a lot of traction on your site, thereby increasing the probability that these vehicles will get sold.

Exit Intent:
Exit Intent helps you convince your visitors not to leave without converting. DVP sees when your visitor is about to leave your site and stops them with an engaging modal. This modal can be a sign-up request, newsletter, special offers, or discounted deals. The purpose is to engage those visitors to become leads before they leave your site.

Time Base:
Timebase is a predetermined time system from DVP that can display a special offer or special in the form of modals to visitors after a certain time. Whether that is 1 second or 10,000 seconds, you get to decide. This can be used on any page of your website and be curated to specific vehicles that your visitors are looking at.

Infusion:
With Infusion, you can place any banner or button anywhere on your site without doing massive changes. For example, this placement can be a call-to-action (CTA) button that helps you increase engagement, or a button on the VDP displaying special offers that are available for that model during a specific amount of time. There is no limit to what you can do with Infusion. Use it to engage visitors on parts of your site where they are typically losing interest.
These are just some of the things we will be demoing at Digital Dealer. Make sure come and check us out at booth 629 from April 9-11, to see all the things we are offering and what DVP can do for you.