Email Marketing Tips for The Holidays
November 7, 2019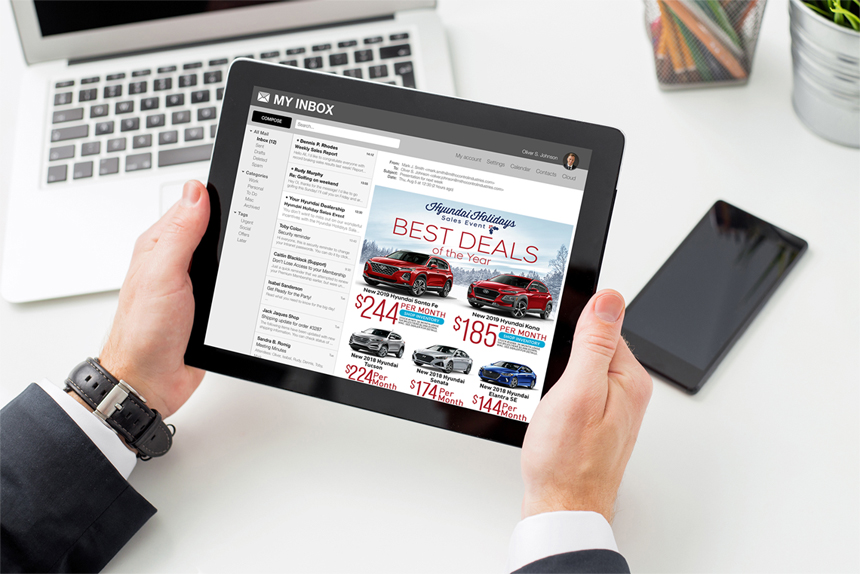 While email marketing is a great driver of sales year-round, studies have shown that 24% of sales during the holiday season can be directly attributed to an email marketing campaign. So, what are you doing to capitalize on this opportunity? If you're considering doing an email marketing campaign this holiday season, here are some helpful tips to get you started:
Segment Your Marketing List
Hopefully, you have been building your email list since the moment your doors opened for the first time and segmenting your list with each email you send out. For the holiday season, in particular, make sure you are segmenting your list to send more targeted and relevant emails to increase your chance of success. Depending on the size of your email list, consider segmenting by vehicle type (e.g., SUVs, trucks, sedans, new or used, etc.), or specific vehicle models.
Start Early
For holidays such as Christmas, Kwanzaa, Hanukkah, and other holidays during that time period, studies have shown that the best time to start sending holiday emails is between November 1 and November 15. After those dates, email open rates start to drop significantly. So if you're considering an email marketing campaign for the holidays, you should consider starting immediately!
Exclusive Sales For Existing Customers
People want to feel important like they're part of an exclusive or elite group. By offering exclusive deals to current or existing customers, you increase your chances of making another sale. In fact, several studies have shown that 65% of customers feel that personalized offers and/or exclusive discounts have a major influence on their loyalty and make them much more likely to become repeat customers. Use your email marketing campaign to build a relationship with subscribers throughout the holidays and tempt them with relevant offers.
Use Urgency
The feeling of urgency inspires people to take action immediately, rather than taking their time by procrastinating where they risk missing out. Creating a sense of urgency is a great way to increase your holiday sales. Use urgency in your email campaign by putting time-limited holiday offers. You could emphasize the day the sale ends, or you could incorporate a countdown timer in your email.
Make Sure You Utilize Attractive Subject Lines.
Subject lines are incredibly important for convincing email recipients to open your email. An incredible email will do you no good if no one is enticed to open it. A/B test your subject lines to find the best phrasing to use that will result in the most opens. Try referring to the holiday(s) or the offer(s) directly in your subject line. You may also want to try using emojis in your subject lines, as studies have shown that using emojis results in 56% more email opens.


Call An Experienced Automotive Digital Marketing Agency
Capitalize on the holiday sales season with some digital marketing. For help with your email marketing campaign, or any of your other digital marketing needs, contact an experienced automotive digital marketing agency. Contact Dealerwebb Services! With over 20 years of automotive and digital marketing experience, we know how to set you apart from your competition so you can get you ahead and stay ahead. Call us today!