What Does The "Not Secure" Warning in Chrome Really Mean?
August 8, 2019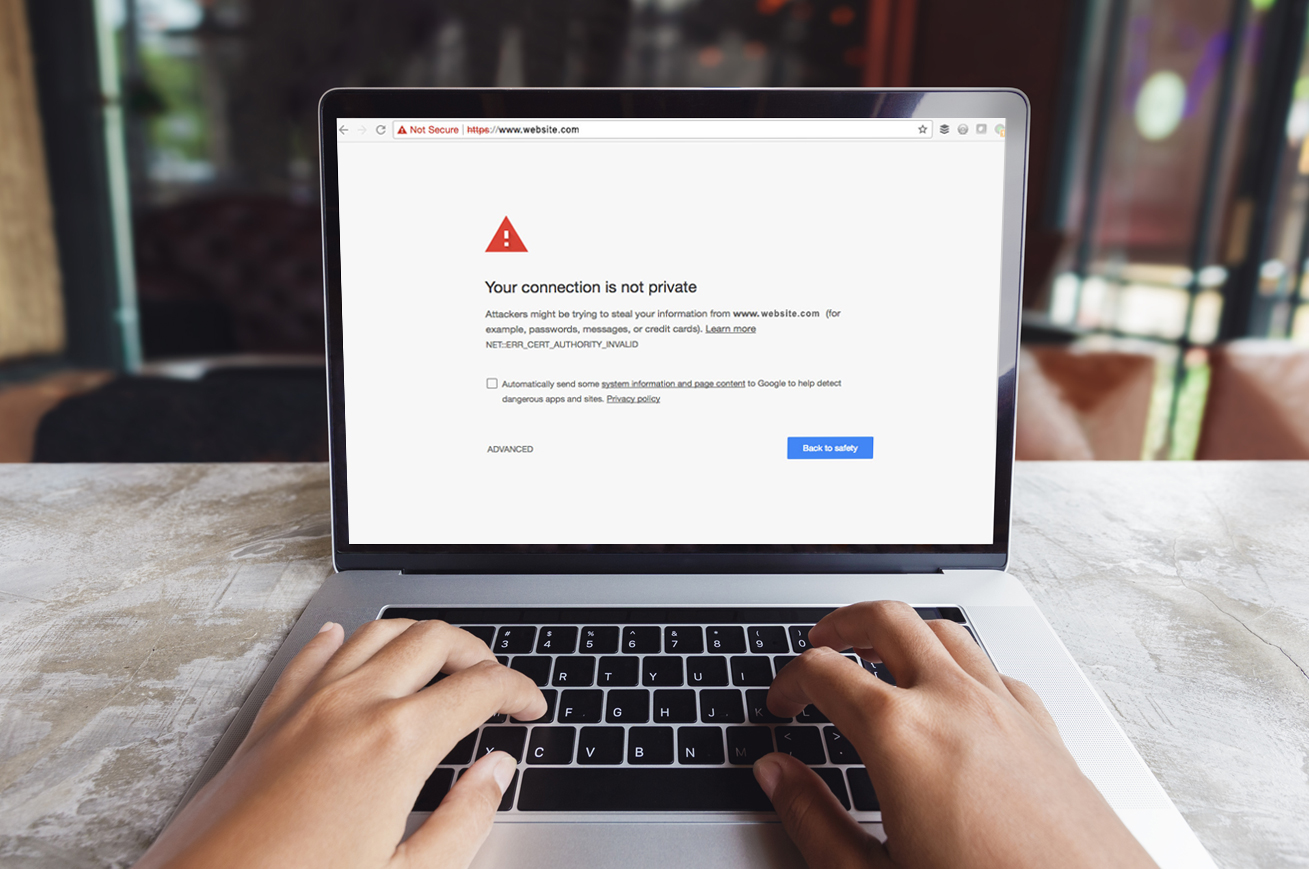 We've all run across this situation: we're browsing on Google and see a site that looks interesting, so we click on the link. But the page doesn't load. Instead, you're hit with a warning message: "Your connection is not private. Attackers might be trying to steal your information from www.example.com (for example, passwords, messages, or credit cards). NET::ERR_CERT_COMMON_NAME_INVALID", along with a blue "Back to safety" button. But what does this warning really mean, and are you really in danger?
What Does The "Not Secure" Warning in Chrome Really Mean?
A "Not Secure" site is one that does not have an SSL (Secure Sockets Layer) certificate. An SSL helps create a secure encrypted connection between the server and the browser. This prevents hackers from stealing potentially sensitive information as said information is being transferred between the server and the browser, by encrypting the data. An SSL certificate is especially important for e-commerce sites that collect sensitive data, such as payment information, or for financing applications.
Are You Really In Danger?
Despite the bright red error icon that may strike fear into at least a few people's hearts, seeing the "Not Secure" warning does not mean that if you proceed, your computer will end up with viruses. In fact, almost 80% of the top million websites do not have a secure website. That being said, you should think twice before sharing any information on these sites as there does exist the possibility that someone could intercept whatever data you provide on that site.
My Website Does Not Have An SSL Certificate, Should I Still Get An SSL Installed On My Site?
If you have a website, you should definitely consider getting an SSL installed on your site, even if you are not asking for any form of information from your visitors (although digital marketing best practice does dictate that you should have some call-to-action where you collect an email, a phone number, or some kind of information from your visitor, on your site).
What Are The Advantages Of Installing an SSL Certificate?
One of the most glaring reasons to install an SSL certificate on your website is user experience. Just as you have navigated away from other sites when you've seen that message, so have potential clients when they've navigated to your unsecured site. You could be missing out on significant traffic by not making your site secure.
If a client does go to your site and decides to convert, it's also possible that you won't ultimately receive that form submission on your end if someone has intercepted it. In other words, you could be missing out on qualified leads simply because someone has corrupted the transfer of data.
Installing an SSL certificate also has SEO advantages. Dating back to 2014, Google announced that in an attempt to protect the privacy of their consumers, their algorithm will use the security of the site as a ranking signal. Also consider the fact that if your site no longer shows a "Not Secure" warning, people are going to be more likely to stay on your site rather than immediately bouncing off. A lower bounce rate will also help you rank higher in the search engines.
For help with SSL certificates, and/or for help with all of your website needs, call a leading website development company and digital marketing agency! Call Dealerwebb! We have options for every need and budget, and your website will include a secure hosting platform and support services, so you won't have to worry about a thing.