Integrating Email Marketing into Your Digital Marketing Strategy
June 26, 2018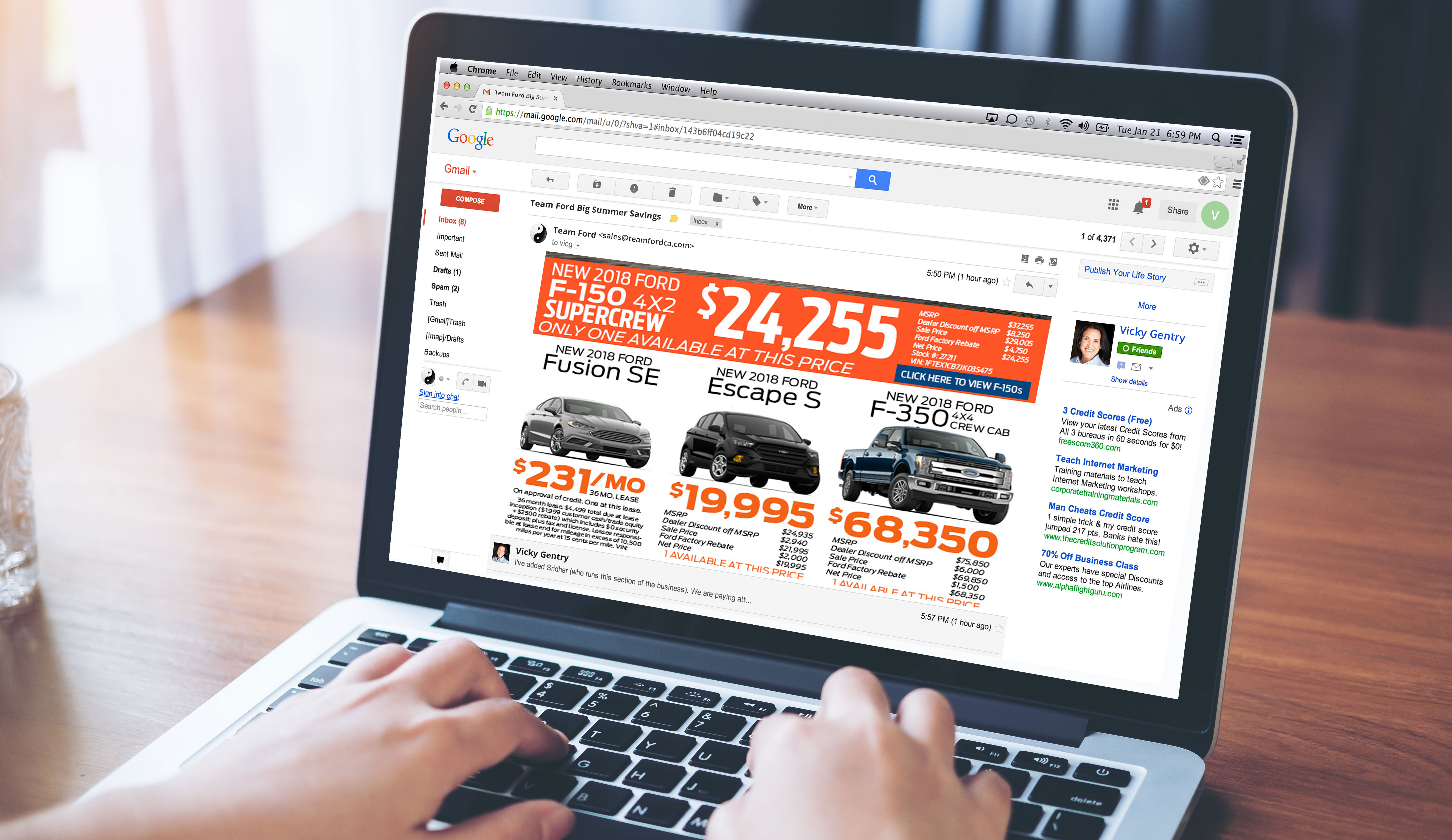 Email marketing can seem scary to a lot of dealers. No business wants to be tagged as a spammer and there are laws about how email marketing has to be done (e.g. CAN-SPAM) as well as privacy rules. Nevertheless, the technique is a powerful asset to your marketing portfolio if you use it right. Here are some ways to use email marketing for your dealership.
Branding
You never know when a customer will need a vehicle, but it's not likely they're going to need one often. Pounding your customer's inboxes with car listings isn't the way to go. Instead, consider email marketing as a brand-promotion tool to keep your dealership in their minds for when the time is right. Ask if you can add them to your list after they make a purchase.
Talk to your customers about the latest news and information about your dealership and brands. Tell them about recalls and technical notices and how they can bring their cars in for service. Teach repair tips that will help them maintain their vehicles. It doesn't have to be all sales all the time!
Highlighting a few cars or specials toward the bottom of your emails isn't a bad idea, but it shouldn't be the focus of your emails, except perhaps at year-end sales when people are looking for a deal and at the introduction of new models for those who love having the latest cars.
Know your metrics
There are four metrics you need to know to track how well an email marketing campaign is performing:
Open rate – The percentage of people who open your email after they receive it. Poor open rates could mean you need better subject lines to entice people to open them. In 2016, the average email open rate for the transportation industry was around 15.5%
Click-through rate – If your goal is to get people to come back to your website, you'll need to measure the click-through rate, which is the percentage of people who click a link in your email to go elsewhere. This can be measured per-link and on an overall basis.
Conversion rate – Usually after they click on a link there will be some action you want them to take. A conversion for a car listing could be making an appointment with a salesperson to get a closer look. A conversion for service would be booking a service appointment. The conversion rate is the percentage of how many people who clicked-through took you up on the offer on the other side.
Return on investment – Writing and sending all those emails costs money. If you can track how much you make on your email-converted customers then you can make a direct ROI calculation. However, don't neglect the power of your emails in creating customer engagement and brand awareness over time either. This kind of power is much harder to measure for ROI but no less powerful. It is estimated that email marketing has a median ROI of 122%!
Use an autoresponder
Autoresponders were originally meant to automatically send an email when someone contacted you, but they're used for a lot more now. You can schedule individual or drip marketing messages to go out at a pre-selected time in advance. For instance, you can take a new customer's email and send them a weekly message about car maintenance as a thank-you guide.
Autoresponders also have many tools that will help you comply with the laws surrounding email marketing, such as providing simple unsubscription options and opt-out policies.
Segment, segment, segment
Email marketing works best when you divide your customer base into segments and create customized messages for those segments. The open rate is 14.32% higher if you segment. Furthermore, if you have links back to your site the click-through rate on those links is double compared to the rate for non-segmented campaigns.
Your metrics can be as simple as dividing your customers up between what make of car they purchased to complicated buyer personas. It all depends on the size of your customer base and the complexity of your offerings.
Consider video
Not all people like fancy HTML emails over plain text ones, but video emails have an exceptionally high CTR. 96% higher than non-video emails! If you already have a video campaign to show off your latest vehicles, fold a link or two at the bottom of your promotional emails. Your customers will appreciate it and so will your eventual conversion rate.
Email for B2B
Email is the third most influential source of information for B2B, behind coworker recommendations and thought-leader recommendations. If your dealership specializes in providing fleet services, email marketing should be your top priority for those clients. Businesses love using email for communication and you'll get a much better response rate. Promotional messages are best sent on Tuesdays for B2B according to a number of marketing studies.
Focus on the welcome email
If you want to get the most bang for your buck, throw your best offers into your welcome letter for your mailing lists. These emails have the highest chance to be opened and clicked through to the offer. It is estimated that you have over three times a greater chance of getting a conversion with a welcome email than through other emails.
Hire a writer
If your writing skills aren't up to snuff, it can be well worth it to hire a writer with automotive experience to help you create your content. They don't necessarily have to have experience with copywriting, though that would help, but they do need to know enough about cars to create quality pieces or have access to people at your dealership that they can interview to get the knowledge they need to write the piece.
Email is the oldest form of internet marketing, but there is a reason it has stuck around so long when so many other methods have fallen by the wayside. It is a powerful method that any business should consider using. Done well, you can realize an incredible ROI compared to methods like social media or organic search. The only thing that beats it is PPC advertising, which you can learn more about here.